As part of a vacation package, all-inclusive resorts allow you to leave your money at home and enjoy limitless food, beverages, activities, and facilities. Most are ideal for family vacations, allowing you to plan ahead of time and keep a tight grip on your vacation budget.
Throughout the Caribbean, there are several affordable all-inclusive resorts on some of the world's most gorgeous beaches. Many resorts across the world provide holiday packages that include food and beverages, and Mexico has a variety of cheap, all-inclusive resorts.
All-inclusive means three meals a day, snacks, and all beverages are included at most resorts. Many resorts have a major buffet restaurant as well as a la carte restaurants that specialise on a particular menu or cuisine. Some businesses provide services.
1. Breezes Resort & Spa Bahamas
This beachfront, all-inclusive, low-cost resort in Nassau has two distinct advantages: on-the-sand rooms line a "Ultra-Inclusive" policy that truly covers everything. There are no resort fees, levies, or gratuities, and the resort even prohibits tipping. Breezes is not an adults-only club, although minors under the age of 14 must be accompanied by an adult.
The Breezes Bahamas is located on Cable Beach and offers a large private space exclusively for hotel guests. There's everything from kayaks to pedal boats for beach and ocean fun, as well as land activities like tennis courts (with free lessons), a climbing wall, and even a trapeze setup.
Buffets and a la carte eating are available at the hotel's five restaurants. The a la carte restaurants (Italian, Asian-fusion, and Continental) change their menus on a regular basis.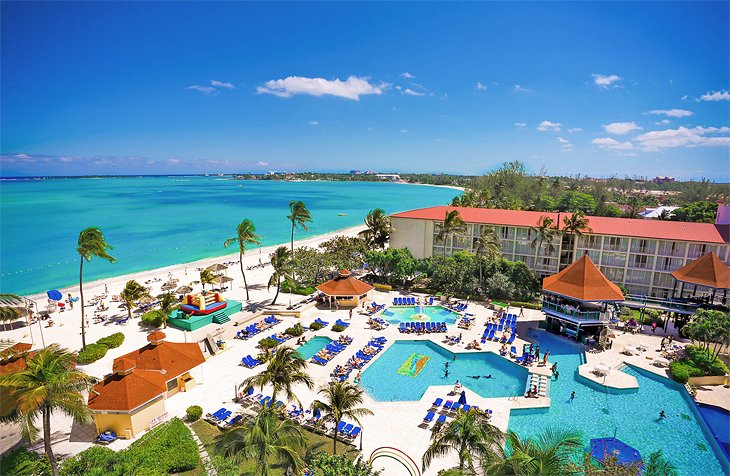 2. Sonesta Maho Beach Resort, St. Maarten
This 10-acre all-inclusive beach resort is located on the Dutch side of St. Maarten. With a wide selection of accommodations and a seemingly infinite number of activities for adults, teens, and children, it's ideal for couples, singles, or families. It's on Maho Beach, the famed beach where planes land at the airport and glide low over it.
The Beach House Kids Club, which offers day and night supervised activities centred on creativity and group interaction, will be a hit with the kids. Babysitting is also provided 24 hours a day, 7 days a week (for an extra charge). Video games, as well as exciting items like DJ turntable decks and GoPro filmmaking experiences, are available in the Teen Zone hangout area. Movie evenings and live entertainment are also available. The modest water park will appeal to both children and adults.
When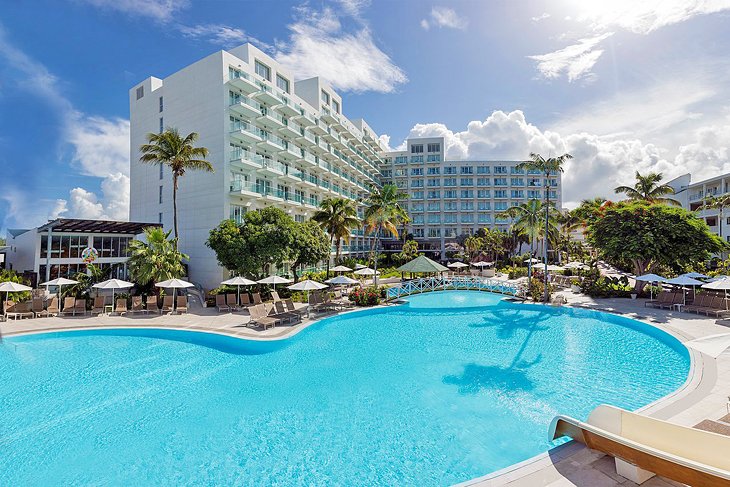 3. Vista Sol Punta Cana Beach Resort & Spa, Dominican Republic
At the Vista Sol Punta Cana Resort & Spa, you can avoid the name-brand resorts and receive everything for less. It's a large resort with over 500 rooms and suites, three swimming pools, and six restaurants to choose from. It's directly on Bavaro Beach, one of the Dominican Republic's most stunning beaches. It provides a complete white, powdery soft-sand beach experience with turquoise ocean.
Nightly entertainment (musicians and live performance acts) as well as a disco are available. A kids' club with daily supervised activities is available for families. You can work out in the large fitness facility or have a massage or treatment in the comprehensive spa (treatments are charged).
A buffet, an Asian restaurant (sushi, Chinese, and other cuisines), and a bar are among the dining options.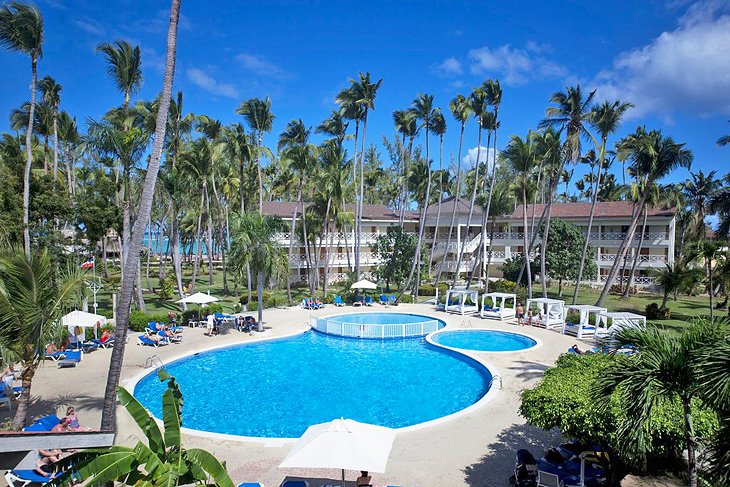 4. Samba Vallarta, Mexico
Mexico's Samba Vallarta This low-cost all-inclusive resort in Mexico is located in Nuevo Vallarta, roughly 30 minutes outside of downtown Puerto Vallarta. At a reduced cost, it features all of the amenities and beach of the downtown resorts.
Rooms face the pool or the garden and come with or without a terrace. Suites with a view of the pool or the garden are also available, as are suites with an ocean view. Suites have kitchenettes and sofa beds in addition to separate living rooms.
The Samba features a children's club with supervised activities and nightly entertainment, as well as live music all across the resort. There are five dining options at the Samba Vallarta, two of which are reserved for adults only. Reservations are necessary for the two non-buffet restaurants' three dinner seatings each night.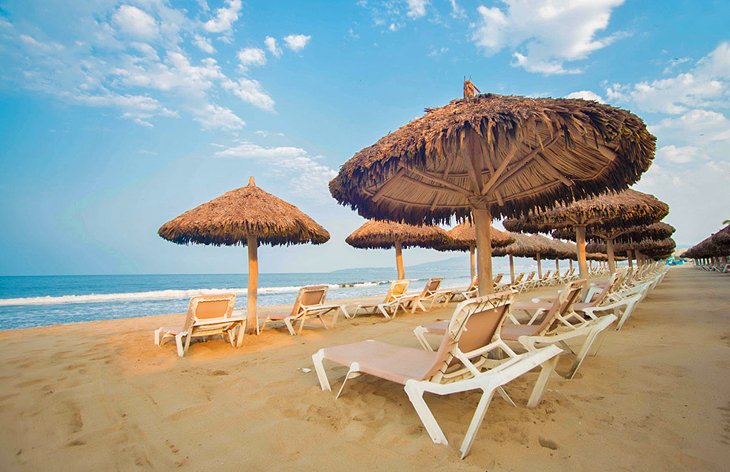 5. Swandor Cam Ranh, Vietnam
Vietnam's beaches are stunning, with soft, white sand and warm, deep blue sea. The Swandor Cam Ranh is a huge, inexpensive all-inclusive resort located on Bai Dai beach, just south of Nha Trang's resort centre.
This is a family resort featuring a variety of kid-friendly activities. There are many family rooms that can comfortably accommodate four people, making the accommodations ideal for families. There's also a large playground and a supervised kids' club programme where parents may relax while their children are entertained.
The rooms are simple yet clean and modern, and they all offer a view of the sea (some have partial views; some face the ocean directly). There are balconies or patios in every room.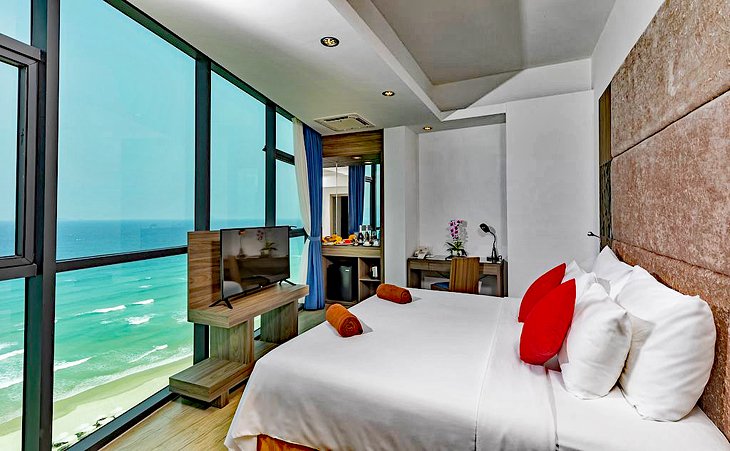 6.Turkey's Spice Hotel & Spa is number six.
Spice Hotel & Spa is the source of this image.
Spice Hotel & Spa is the source of this image.
Antalya is one of Turkey's most popular tourist destinations, with miles of stunning Mediterranean beaches and numerous golf courses. The area also has a lot of Roman ruins, so visitors may combine their beach holiday with some history. Belek is Antalya's newest resort district, with coastal resorts and golf courses. The Spice Hotel & Spa is a huge, all-inclusive beachside resort with great value.
Accommodations and suites are available in a variety of sizes and levels of luxury, although even the most basic rooms have patios and are quite lovely. There are also villas available, which are grouped together in their own VIP sector. The Lockhum Kids Club offers a wide range of activities for children.
Riu Negril Hotel, Jamaica
This low-cost, all-inclusive beachside resort in Jamaica offers a lot for the money. The 400-room resort is located on Bloody Bay Beach in Negril, just a short drive from the airport. Several pools and a seaside snack kiosk are surrounded by the C-shaped complex.
The Riu has furnished balconies or terraces in every room. Some have partial sea views, while others face the pool and garden. There are also junior suites available.
There's a long list of activities to do on the property when you leave the hotel. You can try kayaking, boogie boarding, windsurfing, or even sail a small catamaran on the water. Snorkeling equipment is complimentary, and the resort even provides a complimentary scuba lesson in the pool.
Volleyball, basketball, and tennis courts are available on both sand and land. A children's club is available, as well as a weekly entertainment schedule featuring shows and live music.
The Riu has a good selection of eating alternatives, both in terms of experience and cuisine. One of the best breakfast buffets on the island is at their old school American restaurant. Breakfast, lunch, and dinner are all included in the price. There are various places to choose from, including an Italian restaurant, an Asian restaurant, a great gourmet restaurant, and a steakhouse. Free Wi-Fi is available throughout the property as an added bonus.
Hotel Riu Negril is where you'll be staying.
cost, all-inclusive beachside resort in Jamaica offers a lot for the money. The 400-room resort is located on Bloody Bay Beach in Negril, just a short drive from the airport. Several pools and a seaside snack kiosk are surrounded by the C-shaped complex.